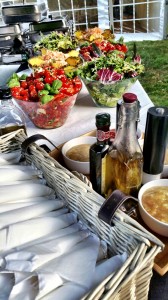 Hog roasting isn't just a business to us, it has been a way of life for many years, and here at Hog Roast Gloucester we never miss an opportunity to share our passion for this traditional cooking method with as many people as possible. Because we put so much energy and creativity into every event we cater for, we can guarantee that your special occasion will be a unique and memorable experience.
We firmly believe that food should bring people together and there is no more sociable way of cooking than gathering around a hog roast and watching the magic happen. We want to enhance this experience as much as possible, not just in the way we cook the meat, but also in the design of our equipment-the addition of a glass panel in the front of our state of the art Hogmaster machines, allows everyone to view the fascinating cooking process and work up an appetite in anticipation of the deep flavour and succulent meat.
This superb slow-roasting method works just as effectively with any meat, not just pork, and if you would prefer an alternative meat from our extensive range, a member of the Hog Roast Gloucester team will happily talk you through our options.
Our Fresh Approach To Catering
You won't find any pre-packed, ready-made dishes in our catering van when we arrive at your venue. Every single part of all of our menus is made from scratch on-site by our talented catering team, regardless of how complex the menu is or how many people we are feeding. We can provide delicate handmade canapes and salads, with exotic or traditional flavours depending on your tastes, as well as starters, desserts and vegetarian options, all of which will be freshly prepared at the venue whilst your choice of meat is slowly roasting.
All of our ingredients are carefully selected from ethical sources and here at Hog Roast Gloucester we never compromise on quality.
Suitable Venues For Hog Roasts
We can't think of any venues that would be unsuitable for Hog Roast Gloucester! Some of our slow-roasted pork would be a fantastic accompaniment at a cider festival on the Welsh border, our canapes and 3 course meals are perfect for an indoor company conference in the city centre and our wedding menus are second to none for outdoor receptions with a view of the Cotswolds. We can cook anywhere for any budget with 100% success and satisfaction guaranteed, contact us today to hear more about us and our services.